" I hope these are helpful lenses to look at ourselves and try and understand what different people in the workplace need and what they can give to the local church" - Martyn Link
The Reality of Work-Life Imbalance- Part 3: The Implications
In this final instalment, I would like to consider what each of the four groups can give to the local church and what each of them need from the local church, before closing with some thoughts on why I have chosen to address this challenging topic.
Sweet Spot (top left)
What they need: Opportunities to serve.
What they can give: The fact that their work demands are low means they have energy and time to give to serving the church. Along with the next group, this group is most likely to take the leadership positions in the church, as they have the time available to give. Those who are particularly successful in their business may also have talents and experience that they can use in building bridges between the church and the community.
Passing Time (bottom left)
What they need: Social interaction – their work offers little satisfaction, they may be looking to be part of something more meaningful. They may also want company if they have lots of time and little challenge at their work. They find their ultimate meaning in their faith, but they may want to have things they enjoy doing outside of work.
What they can give: Availability, attendance. They may well be at every meeting, every social activity, forming the glue that binds the group together, being the reliable ones that are always there. First to get there and last to leave.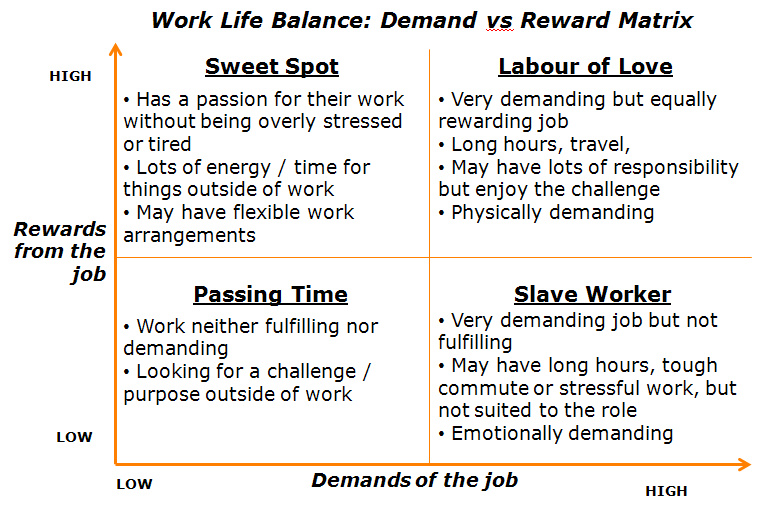 Slave Labour (bottom right)
What they need: Lots of encouragement, understanding and support. They need these things even more than those in the top right hand quadrant, as they have little job satisfaction that could help confirm their calling and motivate them to continue.
What they can give: They have little time and energy, they can give very little to the church. They may need to be emotionally carried and supported.
Labour of Love (top right)
What they need: Affirmation, understanding, encouragement. They may know that they are where they should be, but may feel isolated and misunderstood. Their motives for sacrificing so much may be questioned and they need to know their church is right behind them.
What they can give: 2 hours once a week, maybe more, but sometimes that is all. Some can give more, but may well be sporadic, depending on work level and travel.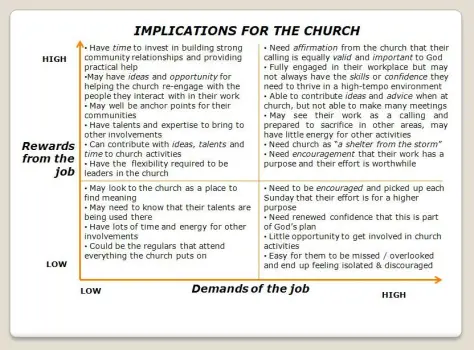 One important point is that their expression of commitment to the local church from each of these groups will look different to external eyes. For some with fewer demands (left hand side) it may be that "time = commitment". For those on the right hand side it may be their "convictions = commitment". They may only seem to give two mites worth of their time to their local church, but like the widow in Luke 21, it may be everything they have to give.
I hope these are helpful lenses to look at ourselves and try and understand what different people in the workplace need and what they can give to the local church. I realise this is an over-simplification. In the real world, people's lives are messier than these neat definitions. The amount of time we have to give to things outside work depends greatly on our family and health situations. There are seasons when our family responsibilities can turn a Sweet Spot job into Passing Time, because of what is happening outside work. Indeed, some jobs mean we oscillate between two or three of these categories.
I would like to close out these three posts with some thoughts on why I chose to talk about such a tough issue. Some of the points I raise are painful to hear, highlighting frustrations with what I have seen of how the church responds to the issues that the workplace throws at us. "Why risk being misunderstood, why risk causing offence? Why not rather always say things that everyone will appreciate and like?" I have struggled with these questions, and have searched my own conscience.
The first question I ask myself, "Is it what I see really true?" However, even if it something is true, sometimes we do not say things that are true to each other because of the law of love that covers over a multitude of sins. Therefore, the next question I ask myself is "Is it helpful?" Sometimes what is most helpful in the long run is also most painful in the short term. Ultimately, I need to decide if I believe the issues I am raising are so important to me, God's people and ultimately to God himself, that I am prepared to be unpopular with people I dearly love.
I often ask myself what the difference is between being opinionated and prophetic. Strong opinions in themselves do not justify being shared and I realise I risk being labelled as such. Prophetic words are equally challenging, but within them we sense something of the call of God to his people. By being prepared to try and walk this knife-edge, I inevitable risk missing the still small voice of God and offering unauthorised fire. But I am up for the challenge because I believe that God has placed a passionate burden on my heart for his people, the lost and his word.
I am prepared to challenge fuzzy thinking among atheists and bear their wrath. Why? Because I genuinely love them. I also have the amazing privilege of being authorised to challenge the assumptions and preconceptions at my work, in order to make our business and strategy more robust. I risk being misunderstood by senior business leaders, but I continue to challenge the business because I care deeply about our future success. I am prepared to challenge false assumptions in the church, why? Because I love it too much to consider my own popularity of more importance than its purity. Through it all my deep desire is that my words would be prophetic rather than opinionated. You and God are the judge of that.